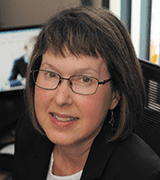 Julie Nielsen serves as senior consultant for the Strategic Performance Group (SPG). She is a 30-year practitioner who translates theory into immediately actionable plans. As president of Oyster Organizational Development and senior consultant with SPG, she partners with senior leaders to help organizations increase success and manage change. She evaluates organizational effectiveness and advises executives, ensuring strategic alignment, developing leaders, coaching, engaging employees, creating strategic people programs, and fostering positive and performance-focused corporate cultures.
A native of the greater Washington, D.C., area, Nielsen has served on senior leadership teams of public, private, and not-for-profit organizations with small, large and international footprints. She has managed change in settings where change is tough. She has partnered with C-level leaders to redesign and rethink organizations, created corporate universities, and led major efforts around engagement, culture, change management, and strategic human resources.
Nielsen has managed talent with people scattered around the globe and with them all in one building. The core challenges and desired outcomes remain the same: create alignment using shared strategies, vision and goals; create effective and fluid organizational structures that are performance-focused; acquire and retain the right talent; develop employees, managers and leaders; and engage the entire team.
Nielsen received a bachelor's degree in business administration from Auburn University and a master's degree in human resources from Marymount University. Her skill set includes organizational development and effectiveness, coaching, talent acquisition and development, change management, employee engagement, culture change, performance planning, budgeting and forecasting, incentive-based compensation and benefit design, crisis planning and business continuity, business development, communication and public speaking, international operations, union negotiations, and HRMS selection and implementation.