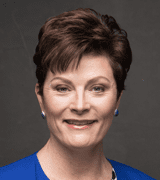 Christina L. Greathouse, a Strategic Performance Group partner, is an industrial/organizational psychologist who consults with a variety of organizations on all aspects of human resources. She has assisted a wide range of companies across all industry lines with critical human resource issues, such as executive search, strategic planning, testing and measurement, organizational development, management training and development, personnel assessment and selection, performance management, compensation and job analysis.
Greathouse is an experienced facilitator and trainer with expertise in designing and facilitating competency modeling focus groups, strategic planning sessions, executive off-sites, staff retreats and team-building sessions for both newly formed and intact teams. Her training and development expertise includes conducting needs analyses, design, delivery and evaluation. She has created and presented courses in topic areas such as performance management, leading and working in teams, behavioral interviewing, customer service, communicating effectively, diversity and all elements of management and leadership development.
Greathouse's testing and measurement experience includes the design and administration of competency modeling surveys, multi-rater (360°) feedback instruments, employee opinion surveys, climate surveys, job evaluation questionnaires, leadership skills inventories, consulting skills inventories and customer service surveys. She has done extensive research using cognitive and personality instruments. Her academic credentials include doctoral level coursework in psychometrics and survey design.
Greathouse partners with organizations to create compensation systems that are equitable, motivating, legally defensible and easy to administer. Her compensation expertise includes the design of job-based and skill-based salary surveys and compensation systems for all levels of personnel. Recent assignments have focused on the development of incentive compensation systems, executive compensation plans, base-salary market studies, and job evaluation and classification systems. She also develops pay management practices that ensure that the process for determining merit pay increases and bonuses and promotions are objective, transparent and predictable.
Greathouse's credentials include more than 20 years of experience in executive search. Before starting her own consulting practice, she was managing director of the Washington, D.C., office of Foster Partners, an international executive search firm affiliated with KPMG Peat Marwick. Typical search assignments included chief executive officer, chief operating officer, chief financial officer, vice president of sales and marketing, vice president of human resources, general counsel and chief information officer.
Greathouse earned her B.A. summa cum laude/Phi Beta Kappa from Barnard College, Columbia University, an M.A. in counseling psychology from Wheaton Graduate School and a doctorate of philosophy from one of the top 10 U.S. programs in industrial and organizational psychology at George Mason University. She has served as an adjunct faculty member of Marymount University School of Business Administration, where she taught a graduate-level course in selection and performance appraisal. She also has served as an executive professor at George Mason University's School of Management, where she taught a course in human resources management in the Executive MBA program.