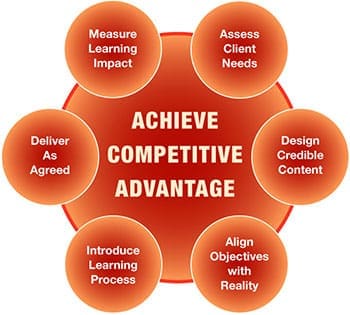 Strategic Performance Group creates and delivers customized learning solutions for its clients. The organization is known for partnering with clients to accurately assess needs and then design materials that are credible and practical and reflect the kinds of challenges clients face. All materials blend cutting-edge theory and practical application. Content is presented in language that "fits" clients' environments. In all learning and development projects, SPG considers three levels of learning.
First, for individual participants, SPG focuses on short- and long-term takeaways — materials have application exercises and action plans
Second, for teams and departments, SPG focuses on contribution to results and effective processes — materials contain questions and exercises designed to highlight a team's or department's performance within the context of the larger organization
Third, for organizations, the group examines desired competencies and rewarded performance and notes the degree to which they are aligned
SPG supports clients in maximizing learning transfer for the purpose of strengthening the entire organization. It selects topics covering a wide-range of managerial, leadership and interpersonal content, all tailored to the client's environment and special needs. The group complements the content by building in coaching, on-the-job transfer assignments, long-term problem-solving projects and special field assignments/shadowing as part of the learning experience.
SPG can custom-design half-day, one-day or year-long programs in a variety of managerial, leadership, and interpersonal topics. We specialize in developing multi-session programs that include role plays, self-assessments, simulations and customized cases, and on-the-job reinforcement activities.
SPG applies action learning methodology to help teams solve problems and develop leaders. Through the process, team leaders and team members increase their capacity to learn while developing their skills in systems thinking, creativity, delegation, risk-taking, and communicating effectively as an intact group working through real issues. Teams work together in a structured way to solve problems that are urgent and important. The action learning coach helps the team extract lessons from its work so that the team is able to replicate its success when faced with future problems. Action learning is a critical skill set for creating learning organizations.
SPG facilitators specialize in helping teams build the infrastructure and processes necessary to achieve their goals. Team development includes establishing goals/objectives/action plans, determining roles/responsibilities, creating communication mechanisms, resolving conflicts, and measuring outcomes.
SPG uses outdoor learning processes to support both leadership and team development goals. Our established relationships with several outdoor learning facilities enable us to tailor activities and facilitation to meet the clients' needs.