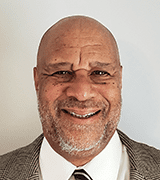 Bradley offers more than 25 years of experience managing and leading in federal agencies. As a former deputy administrator at the U.S. Department of Agriculture (USDA), a human resources director and a senior-executive-service-level employee with a successful career in the federal space, he is uniquely qualified to speak to the challenges and responsibilities of working within the federal system. He is a skilled mediator, known for creating teams of strong stakeholders and facilitating their work in service to a common goal.
During his tenure as a senior executive, Bradley earned the Meritorious Presidential Rank Award for his leadership and special efforts in personally negotiating a settlement in the first ever class-action employment lawsuit brought against USDA. He has consulted with federal clients, offering his expertise in designing and analyzing processes with an eye toward restructuring service agencies in order to best leverage scarce resources while maintaining high service levels to mission critical staff.
Bradley holds a Bachelor of Science degree in business administration from Central State University, Wilberforce, Ohio.