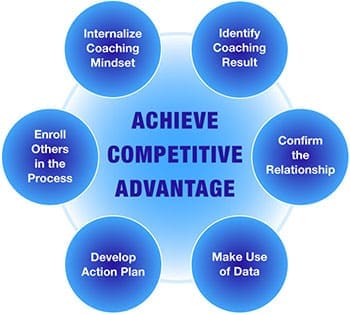 Strategic Performance Group coaches work with corporate, federal and not-for-profit leaders who want to make a difference in their organizations and in their lives. Senior executives and managers benefit from having a dedicated resource supporting their agendas whether the focus is leading effectively, influencing others, preparing for current or future challenges, or managing transitions.
Coaches support senior levels from director to CEO. The approach is behavior-based, action-oriented and results-driven and follows all tenets of the International Coach Federation (we are certified coaches). SPG also helps organizations establish "coaching cultures" by practicing a coaching style of management, implementing coaching programs and engaging in team coaching. The SPG Coaching Model includes the following components.
Identify a coachable result — clarify the purpose and measures of success
Confirm the relationship — establish trust, confidentiality, logistics, and coaching parameters
Make use of data — collect data at the beginning and the end of the coaching process
Develop action plan — develop an ongoing plan to capture practice assignments and incremental success
Enroll others in the process — implement a system for asking others to observe and give feedback to hardwire the intended behaviors
Internalize ongoing coaching mindset — commit to self-coaching and role-modeling a coaching mindset
SPG coaches help clients to develop systems and tools which lead to desired results. The right attitude is important, but attitude alone is not enough to sustain behavioral change. We help clients create measures for doing and being results and feedback loops that provide accurate, timely information. Learning how to achieve and sustain desired results is the objective of our coaching work with each individual. This way they can continue the learning process long after our work together is complete.