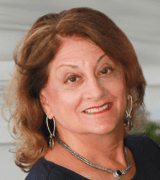 Virginia Bianco-Mathis, a Strategic Performance Group partner, has more than 20 years of experience and a doctorate in human resource and organization development. She is considered a leader in her field. Her background includes a core set of industry positions, extensive consulting with corporate and agency executives, and publications and presentations in the areas of performance management, organizational change, leadership development, executive team-building, coaching and strategic planning.
Bianco-Mathis has held positions in human resources, strategy and organization development at C&P Telephone, AT&T, Lockheed Martin and the Artery Organization. Currently, she is a professor in the School of Business, chair of the Department of Management, at Marymount University. She teaches courses in organization development, team and group dynamics, leadership and strategy. Her current consulting engagements include leadership development, executive coaching, strategic planning, team-building and organizational change.
Bianco-Mathis has given major presentations at several international conferences on topics including "A Multidisciplinary Approach to Implementing Total Quality" and "Change: Best Practices." Major publications include "Consulting Dilemmas" (Training and Development Journal), Faculty Handbook (with Chalofsky, Sage Publications), Change in Organizations: Best Practices (with Roman, U.S. Department of Agriculture), "Cross-Functional Teams at AOL" (with Fitzgerald, OD Practitioner, 2002), and "Learn to Speak IT: OD Consulting Within the World of Technology," in ASTD Links — Consultants in Practice (November 2007). With her SPG partners, she has published Leading From The Inside Out: A Coaching Model (with Roman and Nabors, Sage Publications, Spring 2002), "The Dialogue Deck" (2006) and Organizational Coaching: Building Relationships and Programs That Drive Results (with Nabors and Roman, ASTD Press, 2008). She also has written numerous articles for the Washington Business Journal.