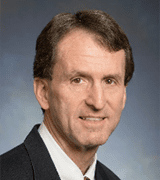 Joe Eulberg is an award-winning human resource executive, with more than 30 years of experience as a chief human resource officer and a senior human resource executive in organizations that include Bob Evans Farms, 7-Eleven and Motel 6.
Eulberg has been recognized as a transformational leader and change agent. He has been a key member of teams conducting organizational restructures, mergers, acquisitions and other strategic initiatives, and he has led human resource functions in organizations as large as 70,000-plus employees. He currently is a faculty member for the School of Business and Technology at Marymount University in Arlington, Va.
Eulberg's key areas of focus have included building strong people and improving organization development practices, including hiring, training, diversity, structure and leadership. He also has led projects outside of HR, such as enterprise resource planning and the development-construction of the Bob Evans Farms headquarters.
He has a Bachelor of Science degree in psychology and Master of Science degree in industrial psychology from Texas A&M and a doctorate in organizational behavior from the University of Texas – Dallas.